8 Best Keyless Cabinet Locks: It is important to lock your cabinets or drawers to prevent unauthorized access to your valuables. Additionally, this prevents kids from opening cabinets, which could lead to damaged items.
You already know why cabinet locks are important. This post features the best electronic keyless cabinet locks that are durable and equipped with other exciting features.
Where does the need for electronic cabinet locks come from? Imagine a keyless lock for your doors. The whole thing eliminates the need to carry keys, so you're less likely to lose them or change their locks. In addition, they have other advantages, which you'll discover as you read on.
But first, a quick look at our selections.
Our Best Picks at a Glance:
Best Keyless Cabinet Locks — Reviews
1. TUOB 2-in-1 Smart Keyless Cabinet with Fingerprint
Have you lost or changed your cabinet keys too many times? This is one durable keyless cabinet lock to consider if you want to change to keyless locks. Designed with zinc alloy, this smart cabinet and drawer lock is resistant to rust.
Your door can be conveniently locked and unlocked using the fingerprint-based lock. *0.002% of fingerprints are accepted; 0.01% are rejected based on false acceptance rates. At first, it may not be so sensitive, but with continued use, it becomes more sensitive, and you can open your cabinet within 0.5 seconds.
More importantly, the lock includes a unique password that can be set and reset at any time. This allows you to lock and unlock it by fingerprint or password. You can also charge it via USB. It charges quickly and can last up to 6 months when fully charged.
It is a durable, elegant, and well-performing keyless cabinet lock. Installation is easy with the help of the installation manual, and it takes just a few minutes to complete.
It fits perfectly on cabinets (kitchen cabinet inclusive), desk drawer storage box, etc.
2. Electronic Cabinet Lock Kit Set with Digital Touch Keypad
In addition to cabinets, drawers, lockers, and storage boxes can also be secured by this electronic lock. It's perfect for home or office use and it comes with multiple unlock modes for lockers/cabinets at home or in the office.
For households, it features a fixed multiple password mode and a password mode that is a one-time passcode for public lockers. In addition to cards and wristbands, ID Cards/Wristbands/Tags and password combinations are available.
Your drawers and cabinets are sure to be protected by this lock.
Installation is easy, and the system comes with a user guide. A user manual is included along with one mortise, one keypad panel, one bracelet, and six screws.
3. Touch Keypad Cabinet Electronic Cabinet Lock Kit Set
Touchpad allows you to enter your password easily thanks to this lock, as its name implies. Moreover, the touchpad comes with a backlight, so you can easily enter your password at night without fumbling with the touchpad.
A backup RFID Tag/Card is installed in the lock. Your drawer or cabinet can be locked and unlocked with a password or RFID tag/card. The lock can be used on cabinets, drawers, lockers, storage boxes, and so on.
Battery-powered electronic cabinet locks also have an emergency backup power supply via USB port. If the battery runs out, you can connect it to a power source via USB.
4. CAHOO Keyless/Fingerprint Cabinet Locks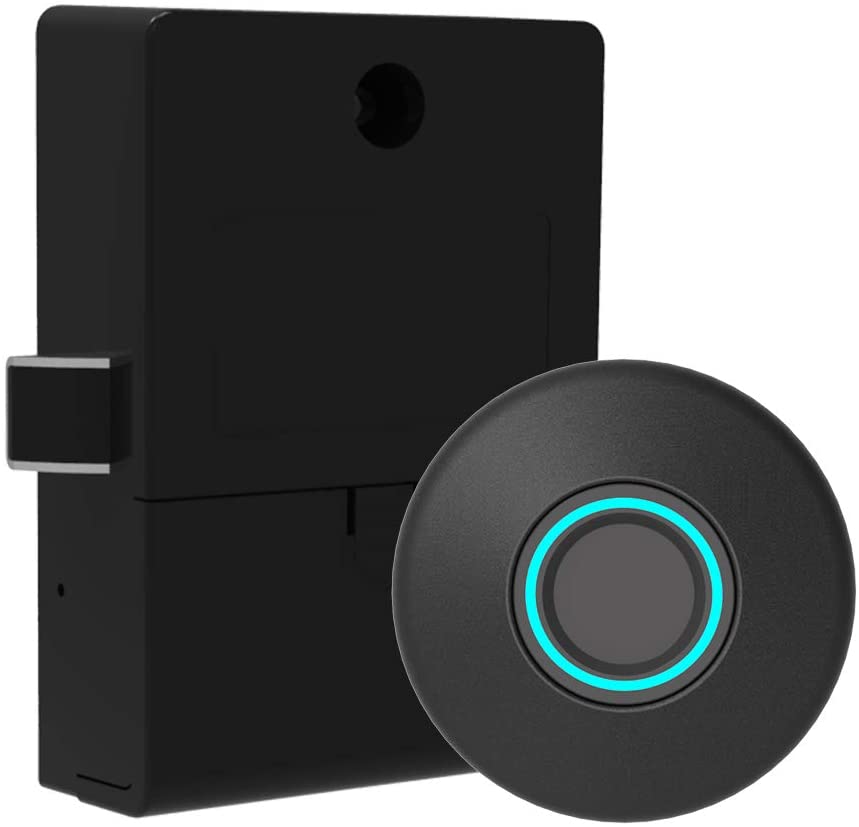 Specifically, its advanced biometric features have earned CAHOO fingerprint cabinets numerous recommendations from existing users. The lock features a highly sensitive fingerprint pad that responds at a single touch.
The lock is durable and offers excellent protection to your valuables in the cabinet or drawer. Locking your cabinets/drawers is an excellent way to prevent kids from opening them.
A maximum of 20 fingerprints can be stored in the lock. Those cabinets can then be shared with other family members if desired. You can also remove fingerprints from those cabinets.
Batteries are required for this keyless cabinet lock; 3 X AAA batteries are included. You may have to purchase the batteries separately if the pack does not include them.
5. CODACE Fingerprint Electronic Cabinet Door Lock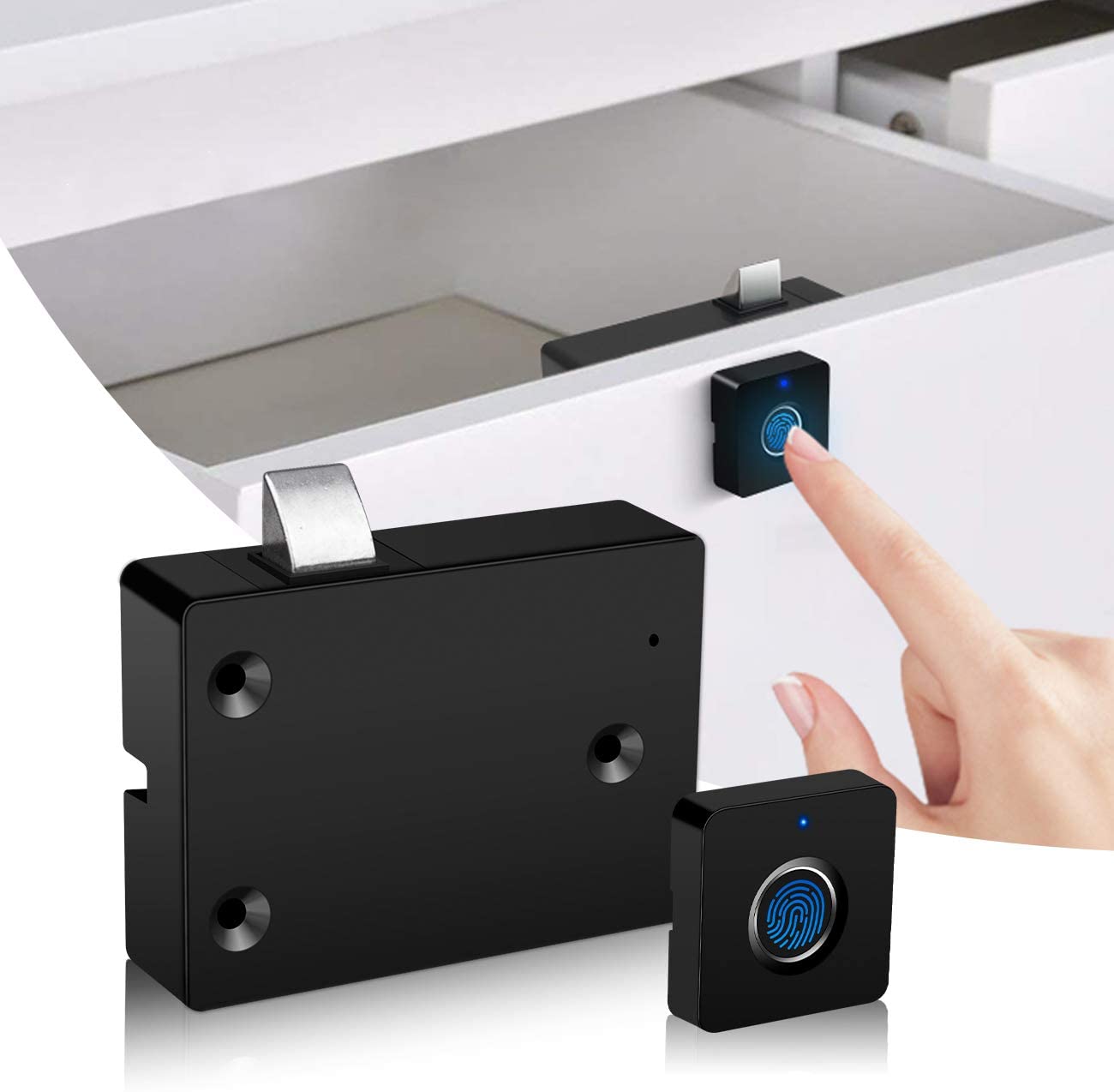 The fingerprint identification system on this locking mechanism is fast and durable. Fingerprints are recognized quite quickly and sensitively thanks to the fingerprint's AI chip.
The device is easy to use and comes with 30 different fingerprint storage options. It is also easy to remove fingerprints. To prevent unauthorized users from adding fingerprints, administrators must verify their fingerprint before deleting or adding another. Sounds sensible, right? Its purpose is to secure drawers, cabinets, and lockers.
This keypad lock is equipped with rechargeable batteries and can last for 180 days when fully charged. If for some reason the battery fails, it is possible to connect the battery to a power source.
Despite its durability and elegance, the lock performs optimally. The product is easy to install and comes with an installation guide.
READ NEXT: Best Commercial Keypad Door Locks
6. FANZI Fingerprint Keyless  Drawer/Cabinet Lock
Besides a fingerprint touchpad, this lock also has quite sensitive controls. In fact, it's quite efficient at detecting fingerprints. As a result, you can open your cabinets and drawers in a matter of seconds. With this keyless lock, you can also ditch bulky drawer keys.
It can be locked and unlocked with fingerprints, as well as a unique password. The lock accepts 20 fingerprints and one unique password. In other words, you do not have to share physical keys with family members. It also works for commercial places such as offices. Adding fingerprints rather than physical keys will allow you to give people access to drawers without having to share physical keys.
A wooden cabinet, storage box, drawer, or other wooden object can be used to secure the lock.
More importantly, it uses a 150mAh lithium battery, which allows users to unlock up to 2500 times if left in standby mode for 6 months.
7. YARDLOCK Keyless Cabinet Lock
Keyless cabinet locks are what you would expect. This lock, however, comes with other features as well. A few others lack weatherproof materials, so it can withstand moisture and other weather conditions. When exposed to moisture, it won't rust or freeze.
Zinc die-cast body with rigid cast plastic shell make the lock quite strong and reliable.
In addition to cabinets and drawers, the lock can also be used on sheds and barn doors. It's easy to use and allows you to set a unique password to unlock your cabinet effortlessly.
Moreover, it is easy to install, so you can follow the instructions on the user guide to do it yourself.
8. Smart Touch Keyless Cabinet Lock
Cabinets, drawers, lockers, storage boxes, pantries, etc. are perfect places to keep this lock. It is a keyless lock, so you should give it a try if you want to convert to digital cabinet locks from the traditional kind.
Your lock comes with a default passcode, so you must change it to a unique access code to prevent your cabinet or drawer from being opened without your permission. It provides a public mode that resets the password automatically after being unlocked.
The locks are powered by three AAA batteries and consume very little power. It also has a low battery alarm that sounds six times after unlocking.
Keyless Cabinet Locks—Related Questions
Are keyless cabinet locks strong?
Yes, the best of them are designed with good quality materials that ensure durability and optimal performance.
What if my cabinet lock's battery dies? The batteries are replaceable, so you can get a replacement. Some locks are equipped with a battery indicator that notifies you about the battery level. You should get a replacement ahead when you start seeing those signs of a weak battery.
Does fingerprint-enable cabinet locks accept multiple fingerprints?
Yes, most of the locks allow users to store up to 20 fingerprints with the option of removing any of them or resetting the device to erase all stored fingerprints.
How can I open my cabinet lock if the battery fails?
The locks also have a USB port that allows you to connect to a power source. Though we can't guarantee that all keyless cabinet locks have this feature, so ensure you check this feature before you buy. Ideally, you should go for a keyless lock with alternative means of unlocking.
Can I use keyless cabinet locks on drawers?
Yes, the locks also work for drawers, lockers, storage boxes, etc.
Closing Thoughts
Keyless cabinet locks perform somewhat better than traditional door locks, even though traditional locks will still work. Instead of carrying physical keys around, you can set and assign unique passcodes or fingerprints to different users.
Drawers, storage boxes, etc. can also be locked with the locks. It is important to note that the locks function effectively only when they are correctly installed, so be sure to follow the installation instructions. Getting help from an expert may be advisable if you are unsure how to do it.
Have you purchased and used any of these cabinet locks based on our recommendations? We'd love to hear what you think in the comment section below.